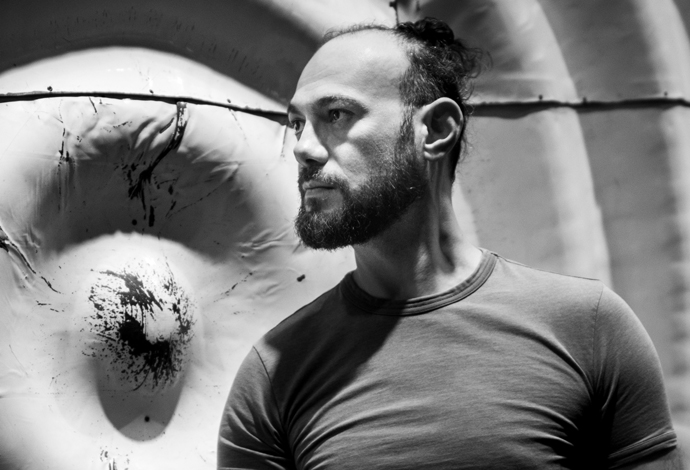 Karén Karslyan (b. 1979) is a poet, visual artist, and a translator. He is the chairman of the Peace Committee of PEN Armenia. He earned his PhD in English (Comparative poetics of Finnegans Wake by James Joyce and Tristram Shandy by Lawrence Sterne: Intertextuality), in 2004. Born and raised in Armenia, he moved to the U.S. in 2005. He is the author of the following Armenian-language books: On the Tip of the Tongue («Լեզվի ծայրին»), a poetry collection (Granish, 2022); The Regime Is In Panic («Ռեժիմը խուճապի մեջ է»), a play (Actual Art, 2019, staged by Tech Degh); Aterazma («Ատերազմա»), a typographic film-novel, the first book of conceptual writing in Eastern Armenian (Inknagir, 2016); Doomed to Spell («Գրողի ծոցը»), a poetry collection (Inknagir, 2010); X Frames/Sec («X կադր/վայրկյան»), collected works (Bnagir, 2003). His poems have been translated into French, English, Spanish, Serbian, Georgian, and Greek, and published in journals and anthologies. His Armenian translation of Lust by Kathy Acker was published by Inknagir in 2015. He is the content manager and scriptwriter of "Armenians Writing in English," an upcoming 12-episode TV-series about the most prominent Armenian-American writers to be aired on Boon TV in 2023.
Karslyan also experiments with visual poetry, video art, and flipbooks: Oh, the Water of My Homeland! (2019) a flipbook; Levon, Go Away! a flipbook (2019); Kocharyan, Go Away! a flipbook (2020); Pride, a flipbook (2020). Amputating the USSR, a video art piece (2014) was exhibited at the 2014 One Shot International Short Film Festival in Yerevan and, together with Z Dream of Vladimir (2020) at Inversion, ARÉ Performing Arts Festival, in 2022.
Karslyan was recognized the Writer of the Year 2003 by Armenia's Public TV. He received Young Artists Award in 2004 for the manuscript of Password, a novel. A group of his poems from his latest collection, On the Tip of the Tongue, won the Granish-2021 Award for Best Poetry.